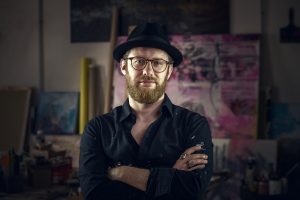 PATRICK HARTL
Patrick Hartl (*1976) is a German contemporary artist with a passion for handwriting and lettering. As of age 15, he was painting Graffiti and learning the ropes of art within the urban sphere. His graphic studies revealed a love for calligraphy and stylised writing with deep roots in the gothic script of his native Germany. Patrick Hartl connects old craftsmanship with modern street style.
On closer inspection, Hartl's seemingly monochrome works turn out to be the result of a multitude of layers of paint and a colourful diversity. His favourite canvas is a ten-years-old wall, which has been bombed, cleaned, bombed again, crashed, washed, damaged, but which always tells a new and unique story. As a master of handcrafted designs and analogue works, and one of the foremost urban calligraphers, Patrick Hartl has been involved in making art for more than two decades.
An avid collaborator, Hartl belongs to the 12 official "CALLIGRAFFITI ARTISTS" and, in addition to exhibiting in traditional galleries from New York to Buenos Aires to Tokyo, and he has painted murals across Europe and beyond.
For regular news please check out his Facebook & Instagram pages:
https://www.facebook.com/stylefighting
https://www.instagram.com/stylefighting
With his friend Christian Hundertmark, with whom he also forms the artist duo LAYER CAKE, Hartl published the book "The Art of Writing Your Name – Urban Calligraphy and beyond" in 2017.
In 2009 Hartl published the book "Beyond Illustration – The Finest in Contemporary International Art and Illustration" together with Yvonne Winkler.

From 2005 to 2010 Patrick Hartl published "CASTLE MAGAZINE", an online magazine about urban art and Illustration together with Yvonne Winkler and Michael Matthias.
Publications:
1000by100 | Melville Brand Design | 2019
Work is Progress | 100for10 | Melville Brand Design | 2018
Munich Walls | Hirschkäfer Verlag | 2018
Calligrams | Monsa Publications | 2017
The Art of writing your Name | Publikat Verlag | 2017
The Art of Rebellion 4 | Publikat Verlag | 2016
Stylefile Magazine #47 | Publikat Verlag | 2016
Freistil 5 | Hermann Schmidt Verlag | 2014
Slanted Magazine #10 | 2010
Artinvestor 06/09 | Artpartners Verlag
Beyond Illustration | Publikat Verlag | 2009
Freistil 3 | Hermann Schmidt Verlag | 2007
Jitter 01/07 | Magazin für Bildgestaltung
Web Design Index 7 | Pepin Press | 2007
Novum 09/06 | World of Graphic Design
Stylefile / Blackbook.Sessions | Publikat Verlag | 2003
Graffiti Art Band 2: | Süddeutschland und Schweiz | Schwarzkopf Verlag | 2002
Juice Magazine 08/99 & 12/99 | Piranha Media
Press:
VICE
Brooklyn Streetart
Widewalls
Castworld
Radio New Zealand
Dumbwall
SR2 Kulturradio
BR / Puls
Kunstblog München
Only Art Club
Muniqueart
Clients:
Warner Brothers, Audi, Absolut Vodka, Hennessy, Adidas, FC Bayern München, Disney Pictures, Philip Morris, Frangelico, Patron Tequila, Pro7Sat1, American Tourister, Sony Home Entertainment, Constantin Film, Tom Tailor Denim, Triesti NYC, Bold Hotels, San Miguel, Tiger Beer, Hiyundai, Moxy Hotels, Süddeutsche Zeitung, Gärtnerplatztheater, Publikat Publishing, M.U.C.A. Museum, ISPO Munich, Semmel Concerts, Tollwood Festival, Outletcity Metzingen, Avantgarde, auf blank a.m.
Awards and Scholarships:
2008-2009 | DAAD Art Sholarship | Kyoto (JPN)
2005 | Rudo Spemann Calligraphy Award | Klingspor Museum | Offenbach (GER)
Exhibitions:
22.09.-28.10.2021: First Lines
Soloshow | PUC Gallery | Puchheim (GER)
14.11.2020-07.01.2021: Layer Cake – Komplizen
Patrick Hartl & Christian Hundertmark (C100)
HILDA5 Gallery | Freiburg (GER)

November 2020: VERSUS
Patrick Hartl | C100 | Chaz Bojorquez | Mambo | Egs | Zepha | Carlos Mare a.m.
Groupshow | Urban Nation | Berlin (GER)
09.-25.10.2020: BEAMS
Soloshow | Farbenladen | Munich (GER)

August 2020: VIERTE
Patrick Hartl | Wolfgang Ellenrieder | Christoph Ruckhäberle | Benjamin Badock a.m.
Groupshow | Neuer Pfaffenhofener Kunstverein (GER)
25.01.-16.02.2020: Previously
Soloshow | Städtische Galerie Pfaffenhofen (GER)
23.11.2019-19.01.2020: Urban Contemporary
Patrick Hartl | C100 | Bust | Dave the Chimp | Various & Gould a.m.
Groupshow | Kunstverein Schwäbisch Hall (GER)
09.11.-29.12.2019: ONE STRIKE PART III
Patrick Hartl | Pokras Lampas | Jan Koke | Creepy Mouse | Mogoora a.m.
Groupshow | Seoul Arts Center (KOR)
12.09.-20.10.2019: Capture the Street
Patrick Hartl | C100 | The London Police | Above | Charlie Anderson a.m.
Groupshow | Oberhessisches Museum | Gießen (GER)
29.06.-28.07.2019: Layer Cake – Welcome to Porky's
Patrick Hartl & Christian Hundertmark (C100)
Kunstverein Rosenheim (GER)
08.-28.06.2019: Pop-up Gallery 
Patrick Hartl | C100 | Marc C. Wöhr | Sweetuno | Jeroo a.m.
Urban Art Gallery | Stuttgart (GER)
16.-19.05.2019:
STROKE Artfair | Munich (GER)
14.04.-03.11.2019: Urban Art Biennale 2019
Patrick Hartl | C100 | Futura | Rammellzee | Cope2 | Martha Cooper | Sheone a.m.
Völklinger Hütte (UNESCO World Heritage) | Saarbrücken (GER)
18.-28.10.2018: Ghost Signatures
Soloshow | Farbenladen | Munich (GER)
13.10.-31.12.2018: KUNSTLABOR
Patrick Hartl | C100 | Case | Herakut | Zeus | Stohead | Rocco & his Brothers a.m.
A project by M.U.C.A. Museum Munich (GER)
04.-14.10.2018: Layer Cake – Brudi Business
Patrick Hartl & Christian Hundertmark (C100)
Farbenladen | Munich (GER)
01.09.-13.10.2018: MONUMENTA Artfair
Patrick Hartl | C100 | 1UP | Martha Cooper | Various & Gould | Rocco & his Brothers a.m.
Pittlerwerke | Leipzig (GER)
21.06.-31.08: LAYER CAKE – The Monarch
Shopping Window | Adda & Taxie Art Contemporain | Paris (FRA)
30.04.-22.06.2018: Odd Marks
Patrick Hartl | Zepha | Egs | Jun Inoue | Blaqk | Tom71
Groupshow | Pretty Portal Gallery | Dusseldorf (GER)
09.03-24.04.2018: Layer Cake – Artistic Dialogue
Patrick Hartl & Christian Hundertmark (C100)
Hearthouse | Munich (GER)
23.11.2017-01.01.2018:
Patrick Hartl | SpY | Matthias Mross | Lapiz
Tollwood Festival | Munich (GER)
21.-26.11.2017: Unexpected Cohabit
Patrick Hartl | Creepy Mouse | Mogoora a.m.
Groupshow | LAUMT Gallery | Seoul (KOR)
04.-08.010.2017: Calligraffiti Ambassadors
Patrick Hartl | Said Dokins | Jan Koke | Creepy Mouse | Jiwoo Park a.m.
STROKE Artfair | Munich (GER)
01.10.2017-14.01.2018: Street Arts Volant!
Patrick Hartl | Stohead | Pokras Lampas | Said Dokins a.m.
Museo del Segno e della Scrittura | Torino (IT)
07.07-05.11.2017: The Art of Writing
Patrick Hartl | Jonone | L'Atlas | Stohead | Said Dokins | Tarek Banaoum
M.U.C.A. Museum of Urban and Contemporary Art
Munich (GER)
29.06.-02.07.2017: Millerntor Gallery #7
Millerntor Stadion | Hamburg (GER)
23.05.-02.06.2017: MAGIC CITY – Die Kunst der Straße
Patrick Hartl | C100 | Niels Shoe Meulman | The London Police | Icy & Sot a.m.
Olympiahalle | Munich (GER)
20.05.-31.05.2017: Juxtaposition
Patrick Hartl | Mami | Creepy Mouse | Andrea Riot | Mogoora a.m.
Groupshow | The Blank Gallery | Tokyo (JP)
14.-27.05.2017: Juxtaposition
Patrick Hartl | Creepy Mouse | Mogoora a.m.
Groupshow | EMOK Gallery | Seoul (KOR)
11.05.-08.06.2017: LAYER CAKE
Patrick Hartl & Christian Hundertmark C100
IFOG Academy | Munich (GER)
06.05.-15.06.2017: Juxtaposition
Patrick Hartl | Mami | Jan Koke | Creepy Mouse | Mogoora a.m.
Groupshow | Aerosol Island Gallery | Tainan (TWN)
09.04.-05.11.2017: Urban Art Biennale 2017
Patrick Hartl | C100 | Banksy | Blek le Rat | Shepard Fairey | Blade | Mode2 a.m.
Völklinger Hütte (UNESCO World Heritage) | Saarbrücken (GER)
06.04.2017: HANGAR 1 Charity Art Auction
Patrick Hartl | C100 | Rocco & his Brothers | Mark Powell a.m.
Berlin (GER)
22.02.-07.04.2017: Project 11 / M Radius
Patrick Hartl | C100 | Moses & Taps | Mad C | Low Bros | Satone | Nomad a.m.
Groupshow | Urban Nation | Berlin (GER)
08.-16.02.2017: One Strike: the War Cry
Patrick Hartl | Creepy Mouse | Mogoora | Lino a.m.
Groupshow | EMOK Gallery | Seoul (KOR)
17.01.-19.01.2017: BRIGHT Tradefair
Event | Berlin (GER)
09.12.-23.12.2016: REVIEW
Patrick Hartl | C100 | Sweet Uno | Marc C. Wöhr | Jeroo a.m.
Groupshow | Urban Art Gallery | Stuttgart (GER)
19.11-27.11.2016: Calligraffiti Asia
Patrick Hartl | Mami | Hisashi Yamamoto | Creepy Mouse a.m.
Groupshow | The Blank Gallery | Tokyo (JPN)
15.11.-20.11.2016: Still just writing my name
Soloshow | Block House Gallery | Tokyo (JPN)
03.11.-09.12.2016: // No Font ((Codex)…
Patrick Hartl | Stohead | Pokras Lampas | Said Dokins | Jan Koke a.m.
Groupshow | Avantgarden Gallery | Milan (IT)
02.09-30.09.2016: LAYER CAKE
Patrick Hartl & Christian Hundertmark (C100)
adhocPAD Gallery | Vienna (AT)
17.06.-16.07.2016: Stories from the Layer Collection
Patrick Hartl & Robert Hoffmann
Only Art Club | Hamburg (GER)
04.05.-03.06.2016: BUCHSTABENARCHITEKTUR
Patrick Hartl | C100 | SweetUno | Formula 76
Groupshow | Urban Art Gallery | Stuttgart (GER)
04.-08.05.2016: Calligraffiti Ambassadors
Patrick Hartl | Said Dokins | Jan Koke | Schriftzug | Xuli a.m.
STROKE Artfair | Munich (GER)
17.02.-13.03.2016: This is high voltage
Soloshow | Üblackerhäusl | Munich (GER)
05.-28.02.2016: SAY MY NAME
Soloshow | Farbenladen | Munich (GER)
11.-18.11.2015: WELTRAUM – die Sammlung
Groupshow | Weltraum Gallery | Munich (GER)
19.-22.11.2015: Affordable Artfair
(Representatives Only Art Club)
Hamburg (GER)
October 2015: evolución
Patrick Hartl | Moneyless | Motomichi Nakamura | Trystan Bates a.m.
Groupshow | Honeycomb Gallery | Buenos Aires (ARG)
23.10.-25.11.2015: Collection Vol.1
Patrick Hartl | The Thomas Brothers | Russel Marshall | Pam Glew a.m.
Groupshow | Only Art Club | Hamburg (GER)
22.-25.10.2015:
STROKE Ltd. Artfair | Munich (GER)
02.-05.07.2015:
Millerntor Gallery #5
Millerntor Stadion | Hamburg (GER)
26.06.2015: WELTRAUM
Patrick Hartl | Ray Moore | Matthias Mross | Sebastian Wandl a.m.
Groupshow | Rathausgalerie | Munich (GER)
14.05.-17.05.2015:
ARTMUC Artfair | Munich (GER)
30.04.-03-05.2015:
STROKE Artfair | Munich (GER)
28.02.-28.03.2015: The Big Bäm
Patrick Hartl | Charlie Anderson | Copyright | Gemma Compton a.m.
Groupshow | Only Art Club | Hamburg (GER)
24.01.-07.03.2015: 12aus14
Patrick Hartl | Ray Moore | Josephine Kaiser | Deniz Hasenöhrl a.m.
Groupshow | MuniqueART | Munich (GER)
18.09.-11.10.2014: Still just writing my name
Soloshow | MuniqueArt | Munich (GER)
17.07.-19.07.2014: MUNICH BY ABSOLUT
Patrick Hartl | Betty Mü | Sebastian Wandl | Matthias Mross a.m.
Art Project | Munich (GER)
29.05.-01.06.2014:
ARTMUC Artfair | Munich (GER)
30.04.-04.05.2014:
STROKE Artfair | Munich (GER)
28.-30.03.2014: Still just writing my Name
Soloshow | Die Färberei | Munich (GER)
12.07.-28.08.2011: RITUAL
Patrick Hartl | Twoone | Sam Gibbons | Fionn Mccabe a.m.
Groupshow | Causey Contemporary | New York (US)
10-14.06.2010: CASTLE
Patrick Hartl | Andrew Hem | Eric Joyner | Imaone | Peter Jellitsch a.m.
Groupshow | Die Färberei | Munich (GER)
27-30.04.2010:
Stroke Art Fair | Munich (GER)
15.05.2010: Castle @ BASSart Festival
Forum am Deutschen Museum | Munich (GER)
12-28.12.2009: Power in Numbers 4
Groupshow | Nucleus Gallery | Alhambra / CA (US)
11.12.2009-03.01.2010: Girls of Death
Patrick Hartl | Base23 | Saner | Pisa73 a.m.
Groupshow | Superplan Gallery | Berlin (GER)
29.-31.10.2009:
Stroke Art Fair | Munich (GER)
05.12.2007-02.03.2008: Words for Peace
Groupshow | Fresno Art Museum | Fresno  / CA (US)
07.08.-01.09.2007: Words for Peace
Groupshow | Canessa Gallery | San Francisco (US)
05.05.-26.05.2007: Castle – The Show
Patrick Hartl | Daniel Schüßler | Alexander Zöbisch | Van Data a.m.
Groupshow | Goerres10 Gallery | Munich (GER)
August 2006: Me, myself and I
Groupshow | Gutleut15 Gallery | Frankfurt (GER)
09.06.-29.06.2006: Bananen im Strafraum
Patrick Hartl | Os Gemeos | Loomit | Daniel Schüßler a.m.
Groupshow | Die Färberei | Munich (GER)
19.11.-30.12.2005: Me, myself and I
Groupshow | Arti et Amicitiae Gallery | Amsterdam (NL)
08.09.-29.09.2005: Me, myself and I
Groupshow | Hobbyshop Gallery | Munich (GER)
25.06.-25.07.2005: Rudo Spemann Award
Groupshow | Klingspor Museum | Offenbach (GER)
24.09.-03.10.2004: Comicologischer Kongress – Face Invaders
Patrick Hartl | C100 | Won | Loomit | Smal | Paze | Flin | Zrok a.m.
Groupshow | Die Färberei | Munich (GER)
22.07.-01.08.2004: Drei Tage freie Raeume 04
Artfair | Goldene Gans | Augsburg (GER)
27.11.-23.12.2003: Schwarz auf Weiss
Groupshow | Die Färberei | Munich (GER)
November 2003: Words for Peace
Groupshow | Velvet da Vinci Gallery | San Francisco (US)
01.07.-31.07.2003: Rudo Spemann Award
Groupshow | Klingspor Museum | Offenbach (GER)
16.05.-18.05.2003: Drei Tage freie Raeume 03
Artfair | Kitzenmarkt | Augsburg (GER)
14.03.-20.03.2003: FIFTYFIVE
Alexander Zöbisch & Patrick Hartl
Galerie am Graben | Augsburg (GER)
15.05.-29.05.1999: Watch out for the third Rail
Patrick Hartl | Neon | Cemnoz | Cheech | Won | Smal | Paze | Flin | Zrok a.m.
Groupshow | Starnberger Flügelbahnhof | Munich (GER)